Four on the Floor: Annabel, David, Nelle, Adam (February 2017)

Join us February 25-26 for Boston Balboa's February Four on the Floor weekend workshop! This is going to be a super-fun workshop with some of the most creative and connection-focused Balboa dancers in the world! There are still spots remaining at the Walk-In price of $120!
Annabel Quisao
David Lee
Nelle Cherry
Adam Speen
Join us for a weekend of workshops, plus a Saturday Night Shuffle dance and a Sunday Speakeasy immediately following the end of classes!
Level Descriptions
We have two tracks, one for Learners and one for Refiners. Levels will be self-placed, and material taught will be similar for both groups. We want each group to learn well together at a similar pace.
You're likely a Learner if: you are intermediate & beyond, working on building your repertoire of Balboa and Bal-Swing moves and getting them to feel solid with all partners. You're likely a Refiner if: you have a solid portfolio of Balboa and Bal-Swing fundamentals and are working to make them more musical, more silky-smooth, and more your own. If you're advanced/advanced-plus/masters at national events, you're a Refiner; if you're not sure how to assess yourself or you don't travel much for Balboa, we recommend Learner level for the best experience. Learner is NOT a beginners level; there is no beginner content during this workshop weekend.
NOTE: all classes expect students to be familiar with the fundamental movements and figures of Pure Balboa and Bal-Swing. If you've never learned Balboa before, please consider taking one of our Introduction to Balboa series or crash courses.
---
Schedule
Saturday
12:00 – 12:30pm
Check-in for workshops at Ballroom In Boston, 300 Western Ave, Allston
12:30 – 1:45pm
Class
1:45 – 2:00pm
Break
2:00 – 3:15pm
Class
3:15 – 3:30pm
Break
3:30 – 4:45pm
Class
4:45 – 9:30pm
Time to get dinner, change, rest!
9:30pm – 12:30am
Saturday Night Shuffle dance at Ballroom in Bostonadmission included in weekend registration, or$8 dance-only pass (door price $12/ $10 with student ID)
Sunday
12:15 – 12:30pm
Check-in for workshops at Ballroom In Boston
12:30 – 1:45pm
Class
1:45 – 2:00pm
Break
2:00 – 3:15pm
Class
3:15 – 3:30pm
Break
3:30 – 4:45pm
Class
4:45 – 5:30pm
Head for the bar!
5:30 – 8:30pm
Balboa Speakeasy at Brass Union, 7 Union Sq, Somervilleadmission free, food & drink pay as you go

Download Schedule PDF: Four on the Floor Weekend Schedule
---
Class Descriptions – Annabel & David
Locking in those Turns
Multiple turns are common in Bal-swing, but are you using your connection to the fullest extent? We will work on locking in our connection to our partners and to our own bodies, and then using that power for play.
Pure Balboa: Playing with Triples
Triple steps in pure balboa are a fun way to add texture and personality. Using changes in posture, connection, and release points, we will play with the variety in this familiar rhythm and explore what feels best for you as an individual.
Fun with Pulse and Shape
We don't need to keep adding moves to bring new dynamics to our dancing. Within familiar Bal-swing vocabulary, we will use variation in pulse and posture to expand your possibilities and to enjoy a new way to interact with your partner.
Class Descriptions – Nelle & Adam
Learners/Improvers
Our goal for Learners is an improved basis of technique in order to expand your dynamic range in musicality and rhythm. Our lessons will briskly review fundamental movements with a fine tooth comb with an eye for improving connection and fun. Next we will stretch your knowledge by recombining those fundamental movements with additional rhythmic changes.
Refiners
Refiners are looking to expand their knowledge base and our goal for you will be just that. Lessons will progress starting with a focus on the more difficult movements of pure Balboa and Bal-swing and how simple changes in rhythm can change these movements altogether. Exercises in modified pulse and posture will open up new dynamic options for better connection and footwork to match the music you are dancing to.
---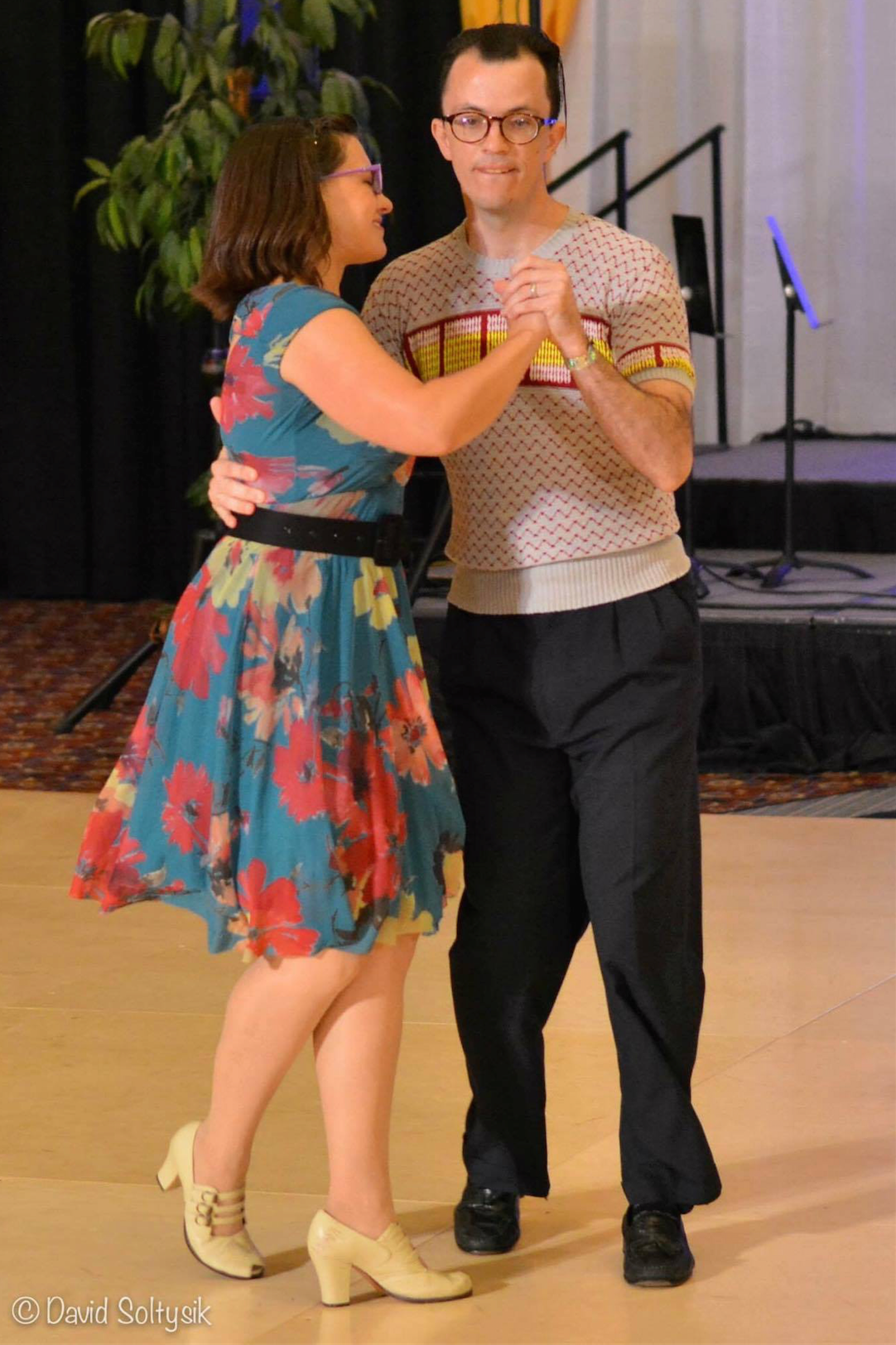 Annabel Quisao is known far and wide for her huge grins and prodigious laughter on the dance floor. Always a lover of swing music, she was addicted to the communication and spontaneity of Lindy Hop upon her first exposure to it in 2003 at her alma mater, Colgate University. She continued to fall in love with the dance at Penn State where she was also introduced to Balboa, Blues dancing, and Collegiate Shag. She adores digging into the nitty gritty details of technique and history while continuing to expand her dance style repertoire, with the newest additions being St. Louis Shag and Jazz Fox Trot. Annabel has been teaching weekly classes since 2005 in her various places of residence including upstate New York; State College, PA; Memphis, TN; Boston, MA; and, currently, Washington, DC. In her teaching, she emphasizes technique and critical thinking, giving students the tools to explore their own abilities, inspire their partners, and have a good time! She also enjoys the challenge and excitement of competing and has many titles to show for it from such events as the International Lindy Hop Championships, All Balboa Weekend, BluesShout, California Balboa Classic, Blues Muse, Camp Hollywood, and the Nevermore Jazz Ball.
David Lee has been passionate about swing dancing since he first started in 2006 and has yet to meet a dance he doesn't love. He enjoys sharing his enthusiasm for Lindy Hop, Balboa, Collegiate Shag, St. Louis Shag, Charleston, and numerous other swing dances with every person he meets. He is known for his musicality and creativity on the dance floor, and in the classroom he excels at breaking down mechanics in a way that is accessible to dancers of all levels and learning styles. His dance accomplishments include placements at All Balboa Weekend, the International Lindy Hop Championships, Lindy Focus, and Hot Rhythm Holiday, and he has also earned the distinction of Distinguished Fellow at The Balboa Experiment for his work there as a guest mentor. He teaches at his local venue, The Jam Cellar, in Washington, D.C., and has also taught at events nationally and internationally.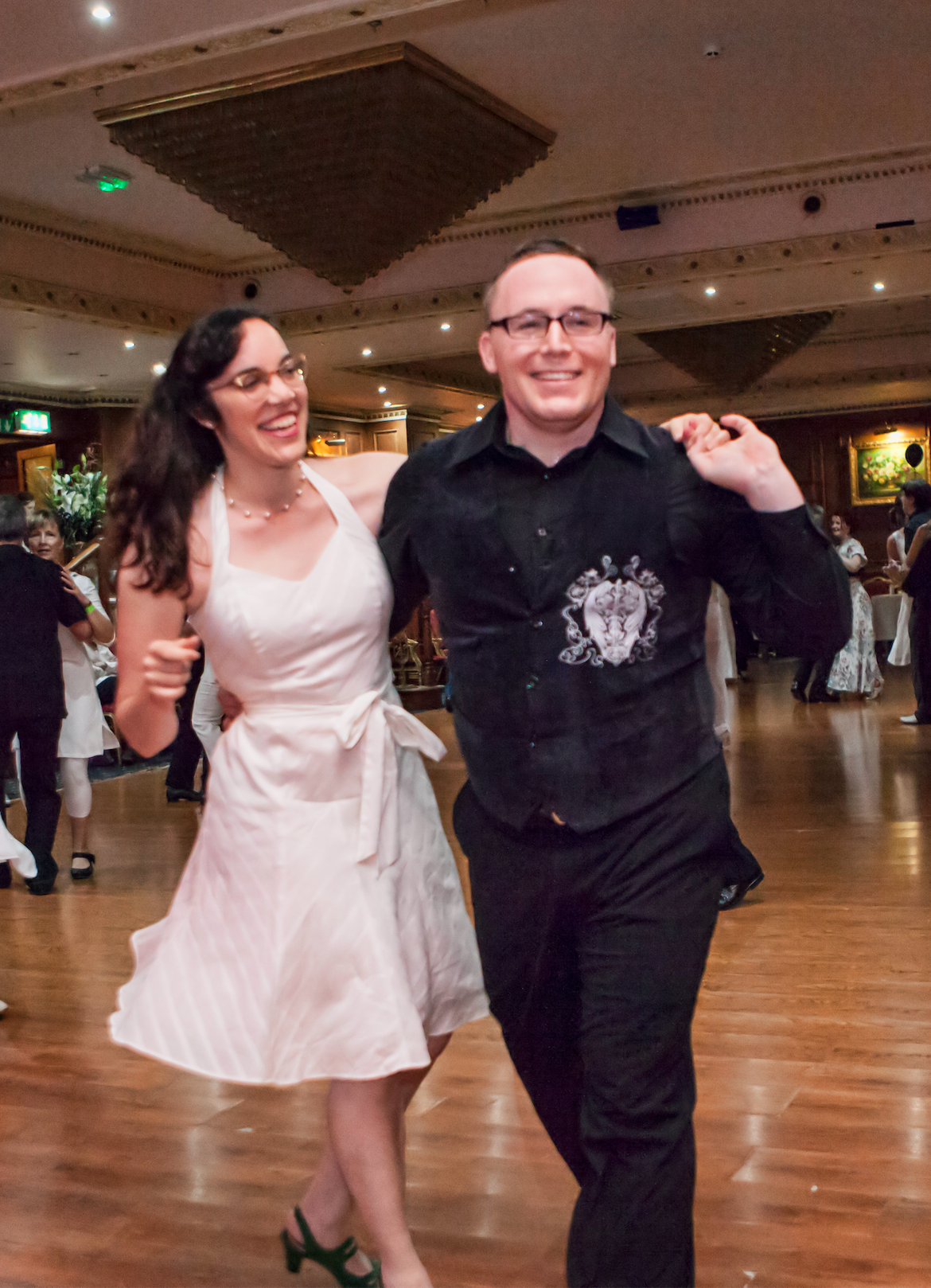 Nelle Cherry has been a dancer her entire life with professional training in ballet, tap and jazz. But it wasn't until she was introduced to social dancing, particularly Balboa, in the spring of 2006 that dancing truly became a passion. Since '06 she's trained under the most notable teachers from around the world. Competitively she has won, placed and made finals in competitions around the world in both strictlys and jack and jills, helping keep the classic aesthetics of the dance alive. Teaching allows her to share this passion and experience with other likeminded dancers, as she strives to continually be inspired and inspire others through social and competitive dancing and traveling.
Adam Speen strives to provide a unique perspective combining classic swing dance technique with a modern ideology. Partnership and playfulness are the focus for Adam on the dance floor, creating a "yes and" environment for his partners and himself. He brings the same positive environment to the classroom where conditioning drills, visual media, and demonstrations by students are commonplace. Adam loves having the opportunity to travel and teach so many amazing students but you will find him his happiest on the social dance floor. When not dancing, Adam is pursuing a doctorate in Toxicology at UNC.